Here are some of our FTTH Packages
25/25
Mbps
For only
R449
pm
50/50
Mbps
For only
R579
pm
100/100
Mbps
For only
R669
pm
500/200
Mbps
For only
R899
pm
1000/500
Mbps
For only
R1 299
pm
20/10
Mbps
For only
R299
pm
40/10
Mbps
For only
R369
pm
50/25
Mbps
For only
R599
pm
100/50
Mbps
For only
R749
pm
200/100
Mbps
For only
R999
pm
10/1 Air
Mbps
For only
R289
pm
20/2 Air
Mbps
For only
R399
pm
40/10
Mbps
For only
R599
pm
80/20
Mbps
For only
R749
pm
150/30
Mbps
For only
R899
pm
15/15
Mbps
For only
R718
pm
30/30
Mbps
For only
R920
pm
75/75
Mbps
For only
R995
pm
150/150
Mbps
For only
R1 180
pm
750/750
Mbps
For only
R1 880
pm
Limited Promo! Get R500 back
25/25
Mbps
For only
R535
pm
Limited Promo! Get R750 back
50/50
Mbps
For only
R755
pm
Limited Promo! Get R900 back
100/100
Mbps
For only
R899
pm
Limited Promo! Get R1000 back
200/200
Mbps
For only
R1 065
pm
Limited Promo! Get R1300 back
1000/200
Mbps
For only
R1 695
pm
20/20
Mbps
For only
R485
pm
75/75
Mbps
For only
R799
pm
250/250
Mbps
For only
R945
pm
500/500
Mbps
For only
R1 299
pm
1000/500
Mbps
For only
R1 499
pm
35/35
Mbps
For only
R670
pm
50/50
Mbps
For only
R830
pm
100/100
Mbps
For only
R1 070
pm
200/200
Mbps
For only
R1 290
pm
10/10
Mbps
For only
R605
pm
20/20
Mbps
For only
R756
pm
50/50
Mbps
For only
R958
pm
100/100
Mbps
For only
R1 412
pm
50/25
Mbps
For only
R857
pm
100/50
Mbps
For only
R958
pm
10/10
Mbps
For only
R759
pm
20/20
Mbps
For only
R912
pm
50/50
Mbps
For only
R1 045
pm
100/100
Mbps
For only
R1 245
pm
30/30
Mbps
For only
R789
pm
75/75
Mbps
For only
R939
pm
125/125
Mbps
For only
R1 139
pm
300/300
Mbps
For only
R1 299
pm
25/25
Mbps
For only
R599
pm
50/50
Mbps
For only
R749
pm
100/100
Mbps
For only
R899
pm
200/200
Mbps
For only
R999
pm
500/500
Mbps
For only
R1 299
pm
20/10
Mbps
For only
R549
pm
20/20
Mbps
For only
R649
pm
50/25
Mbps
For only
R699
pm
100/100
Mbps
For only
R899
pm
200/200
Mbps
For only
R1 049
pm
50/50
Mbps
For only
R850
pm
100/100
Mbps
For only
R1050
pm
200/200
Mbps
For only
R1250
pm
1000/500
Mbps
For only
R1550
pm
25/25
Mbps
For only
R679
pm
50/50
Mbps
For only
R829
pm
100/100
Mbps
For only
R979
pm
200/200
Mbps
For only
R1129
pm
300/300
Mbps
For only
R1279
pm
1000/1000
Mbps
For only
R1479
pm
15/15
Mbps
For only
R279
pm
30/30
Mbps
For only
R479
pm
50/50
Mbps
For only
R649
pm
100/100
Mbps
For only
R829
pm
200/200
Mbps
For only
R979
pm
500/250
Mbps
For only
R1149
pm
1000/100
Mbps
For only
R1249
pm
Limited Promo! Get R500 back
Limited Promo! Get R750 back
Limited Promo! Get R900 back
Limited Promo! Get R1000 back
Limited Promo! Get R1300 back
Hot Promotion
Fibre and UPS bundle deal
Sign up for a Fibre package and add a UPS for R69 per month.
Starting from
R69
pm
T&C's apply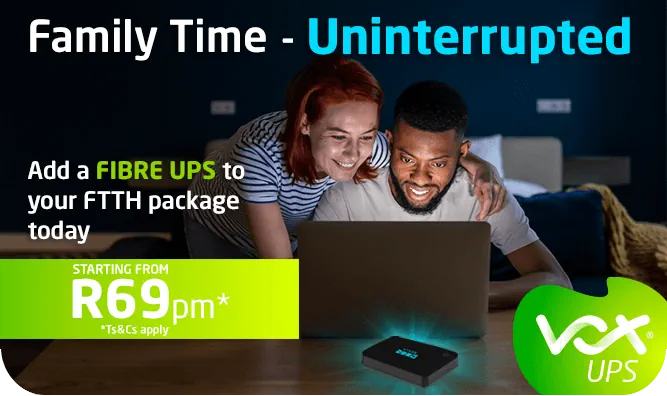 Discover what Fibre offers
Don't limit your online experiences and entertainment – Choose Vox Fibre to the Home today!
Speed & Quality Internet
Fast and Reliable Connectivity
Work, study, game, shop, browse or socialise. No matter the platform or activity, with Fibre, there are no interruptions.
Speeds range from 4Mbps to 1Gbps
Extensive coverage across all 9 provinces in SA
Month to Month Contracts
Unshaped and Unthrottled
Upgrade and downgrade your Fibre line with ease
Download the Vobi App and get 60 free Voice minutes per month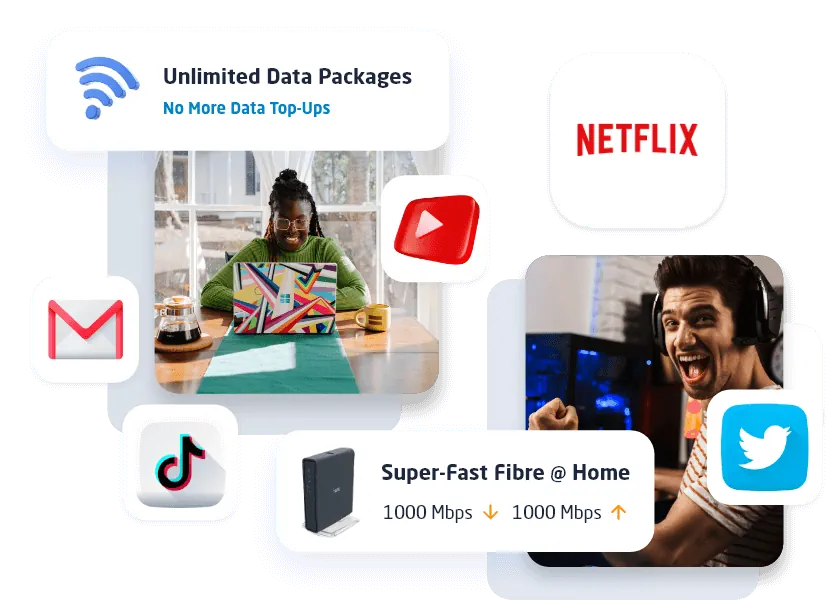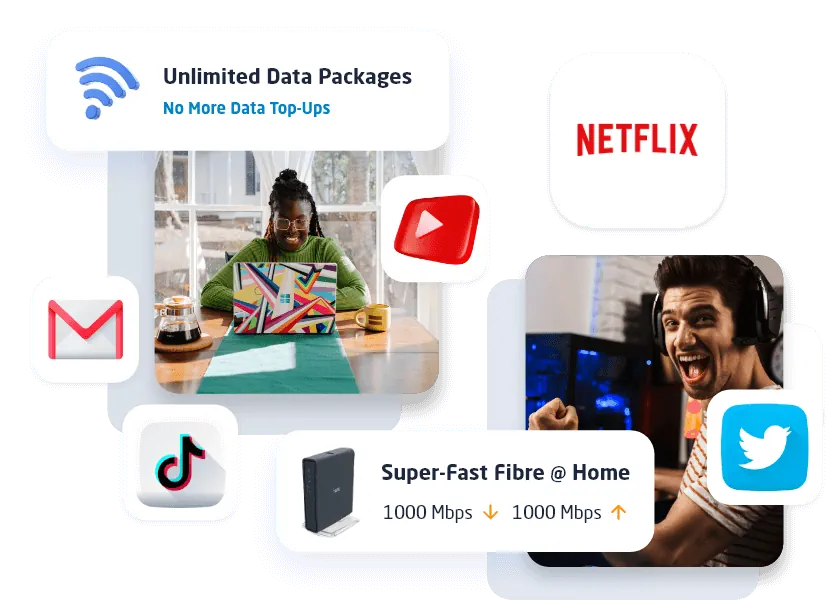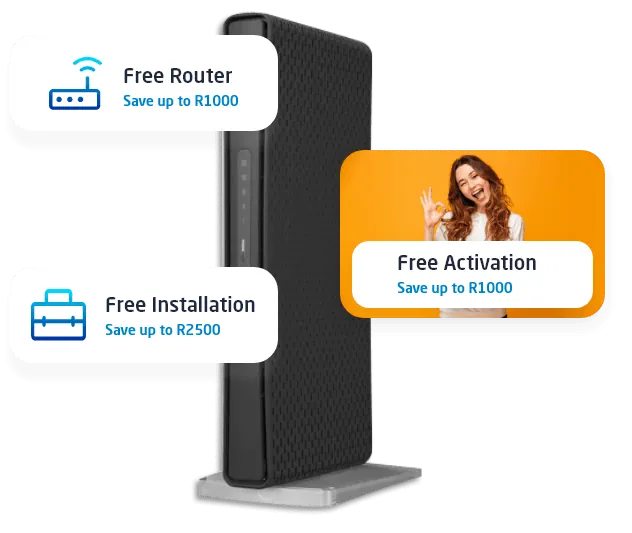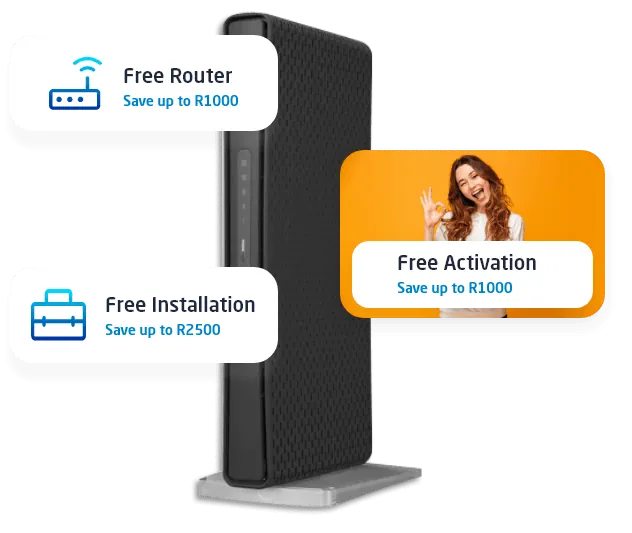 Affordable Internet
Cost-Effective Fibre Packages
Affordable fibre optic connectivity for every home.
Price starts at R289 pm
Free installation and activation

Free-to-use Router

Uncapped with no FUP
Save up to R4500
Download the Vobi App and get 60 free Voice minutes per month
Technical Experts
Support available 24/7
Our technical experts are always on standby to assist with your every need.
Level 1,2,3 engineers available 24/7/365 days to assist
Remote and on-site troubleshooting available
Telephonic and email platforms available
Online Customer Portal to manage all your connectivity requirements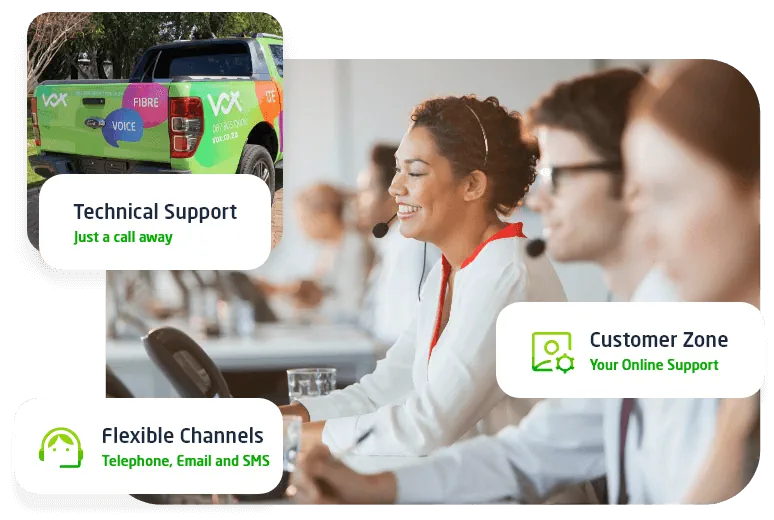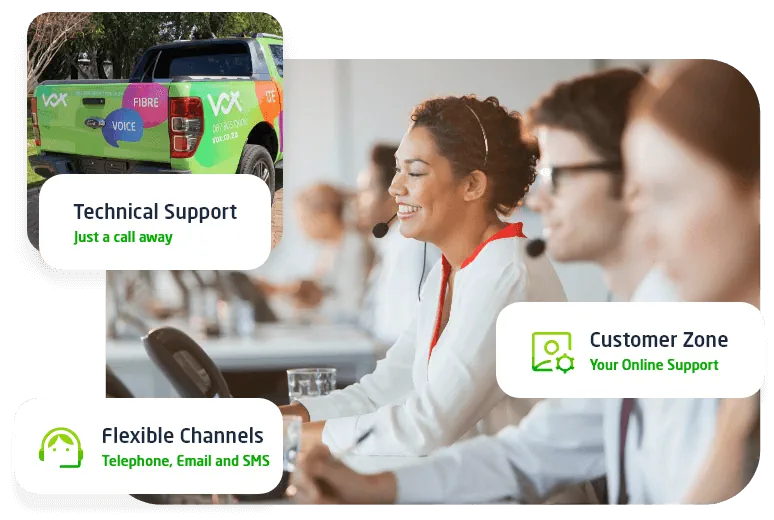 Why Vox Fibre for your Home?
Enhance your Internet experience at Home with any of our Fibre to the Home Packages
Super Fast
Stream Netflix or YouTube without the buffering.
Reliable
Fibre is the latest in cutting edge internet technology, making it a future proof choice.
Unlimited, Unthrottled Data
Work, study, game, shop, socialize. No matter what the platform or activity, do it with no interruptions.
Connect Multiple Devices
Busy homes mean multiple devices connected simultaneously on a single Fibre line.
Free Installation & Router
We include free installation and a Free-to-use Wi-Fi router as part of your bundle.
Free Voice Minutes
You get 60 free Voice minutes on the Vobi mobile app.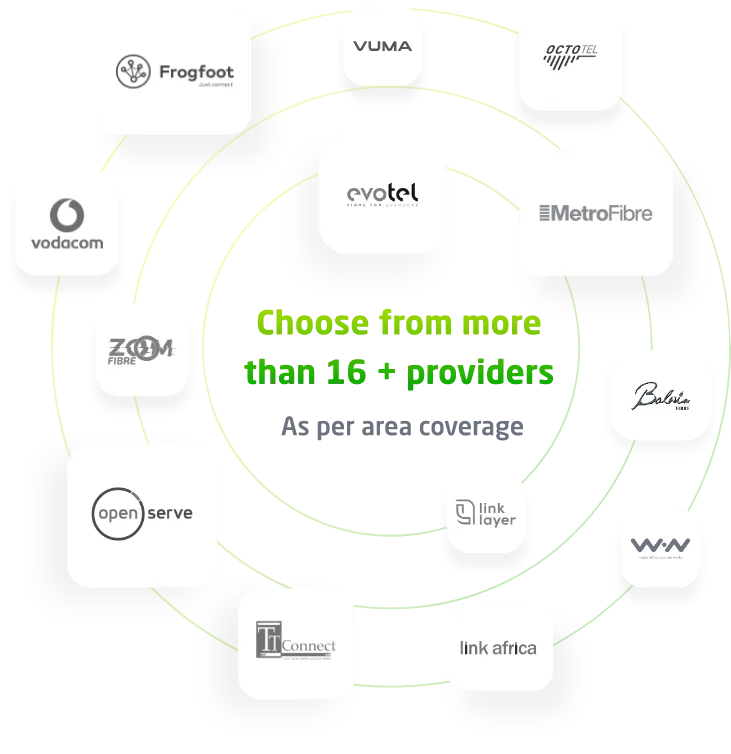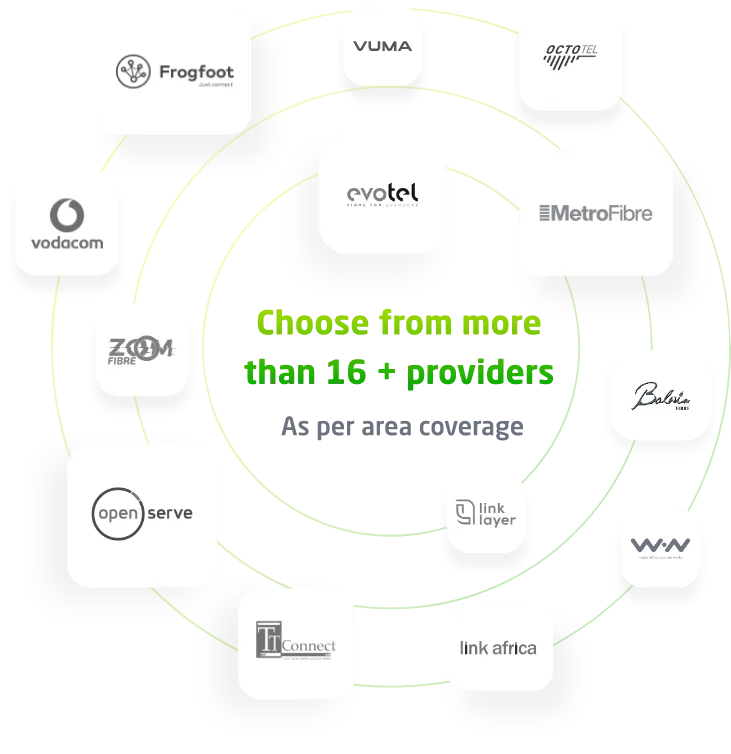 Special Terms and Conditions
The following applies to all Vox Fibre to the Home packages
Still have a few questions?
We have all the Fibre answers you need below
Frequently Asked Questions
Tools, resources and support
We all strive to create the best products and services
Vox works in partnership with: